Bruno (Seek Ruahines of Sierraskye)
Sex:

Male

Date of Birth:

16-Nov-2015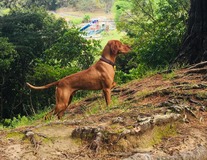 I'm so pleased to introduce this handsome gentleman, Bruno, as Tahlia's first mate. Sires for use within my breeding programme are carefully selected for their genetic contribution and for features that complement my bitches. While there are a number of good candidates with frozen semen for Tahlia in future, I'm keen for her to have a natural mating for the first one. Bruno has been a contender for some time, and I've had the opportunity to assess previous offspring of his and they've turned out very well. I'm pleased to have had the opportunity recently for us to meet up with Bruno and his owners, and to now include him in my breeding programme.
Bruno is active, lively, playful and very affectionate, and is excellent with other dogs. He has a sound stable temperament, underlined by the fact that his early circumstances were not easy, but once he was rehomed into his current family, he quickly gained confidence and is very trustworthy. He clearly delights in human company, and shows a high degree of responsiveness.
He has not been worked or shown because those are not the interests of his owners, but there is no reason he could not have done well in any field. He shows a good level of natural hunting ability, with a strong nose and intense focus. His offspring also show good natural ability.
Bruno is a moderate sized (a bit over middle of standard), elegant but well-boned Vizsla. He has nice balance, good angulation, a nice top-line and excellent movement.
His health tests are all good. The hip distraction indices are better than breed average, and his elbow scores are acceptable (one increment away from a clear score, and unlikely to ever show sign of problems over a long life span). His eye certification, while clear on all other aspects, showed extremely mild goniodysgenesis. This is not a concern; the specialist who did the examination has confirmed that it's so mild that there's no increased risk of developing glaucoma for either Bruno or his pups from a certified clear bitch. He said glaucoma is seen either when goniodysgenesis is severe, or is moderate and there's been trauma as well. Bruno's DNA test showed him clear of cerebellar ataxia.