Welcome to Addenhund, home of the noble Hungarian Vizsla.
We have one pup still available.
Georgia and Solo: CH Rafoej Our Georgia and CH Addenhund Dalibor Sol
This is an exciting combination of lines, and I'm expecting robust resilient hunting dogs, with excellent temperaments and that will make great active companion dogs. Information on the sire and dam is under each of their profiles.
Photos and updates of he puppies are on our Addenhund facebook group
The name Addenhund means noble hound, and comes from the first part of my surname, 'Adden', which means noble, combined with 'hund', the old word for dog.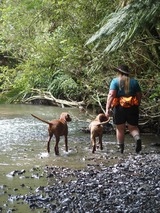 I love the vizsla breed, continue to be amazed by their hunting ability (always "trust the dog", especially when you think you know better), and value their history and lineages and the effort that past generations put in to develop and refine this wonderful breed. They are noble and dignified, intelligent and intuitive, skillful hunters and trackers, affectionate companions and goofy humourists. They are also beautiful, with a noble head, clean lines and athletic build, all wrapped up in gorgeous russet velvet, with sparkling soft eyes showing intelligence, affection and joy of living.
My name is Jude Addenbrooke, and I come from generations of people who have explored, farmed, hunted and cared for the land, often with dogs at their sides. It's in my blood. I'm a scientist (soils and geomorphology), sustainable land management professional and truffle grower. I love the outdoors, New Zealand's amazing landscape, our rivers and bush, and enjoy nothing more than being up the hills with my dogs, deer stalking or often just exploring and taking time out. I live on a small lifestyle block at Mystery Creek in the Waikato, New Zealand, and travel regularly throughout the country for work, or camping and hunting trips with my dogs. I love to watch their intense concentration when scenting and stalking, see them develop and express their natural ability, and share their joy of hunting and the great outdoors.
My vizslas are my companions, living with me in my home, having free run of the lifestyle block, coming up the hills hunting (mainly for deer but sometimes other game), visiting beaches and rivers, being friends with all my friends, doing community service as canine therapy dogs, and coming home again to snooze on the deck in the sun, or curl up in front of the fire on a cold winter evening. They have wonderful temperaments, adapting readily to whatever situations I put them in, and their love of people, charm and elegance endears them to everyone they meet.
I breed selectively, striving always for versatility, hunting ability, excellent temperament, and good health and structure. Every breeding is a carefully considered one, aiming to produce quality pups and to support the genetic diversity and wellbeing of the breed in New Zealand. Please read the section on my Breeding Programme, and feel welcome to check out the rest of the website.
If you are interested in making an Addenhund pup part of your life, please contact me by email at jude@addenbrooke.nz or fill in the form on the contact page. I welcome all genuine enquiries about the Vizsla breed, my programme, pup availability, socialisation and training.
Jude Addenbrooke
Note - all photos in this website are of my own dogs, unless otherwise credited. All photos and text is copyright and not to be copied without my express written permission.