An Addenhund vizsla puppy?
At Addenhund Hungarian Vizslas, I breed selectively. Every breeding is a carefully considered one. From time to time, I will have pups available to good homes. If you are interested in making an Addenhund pup part of your life, please contact me by email at jude@addenbrooke.nz or fill in the form on the contact page and tell me a bit about your lifestyle and why you are interested in a vizsla. I welcome all genuine enquiries.
I want my pups to go to the best homes possible, and I want you to be happy with your pup. Bringing a vizsla pup into your life can be life-changing - they are high energy and inquisitive, and it is a commitment that may last up to 15 years. I will be asking you questions about your situation and what you are looking for in a vizsla. This is to help me to choose the most suitable homes and to match the best pup for you. You are also welcome to ask me questions. I hope to maintain contact with my vizsla puppy owners, to get the occasional update and photo from you, and to be available when you have questions. If, for ANY reason, an Addenhund vizsla owner is no longer able to keep their dog, it is to be returned to me.
Puppy raising and socialisation
I am a proponent of natural rearing, giving my pups the best possible start in life by supporting my bitches in their health and wellbeing, providing them with good diets and exercise, mental stimulation and emotional security. I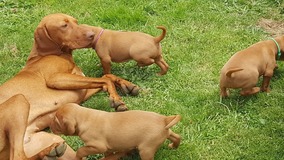 avoid chemicals in their environment, and minimise intervention as much as possible. Equally with the pups - they are born in my home, raised on their mother, fed and looked after almost entirely by her in their first few weeks, and then introduced to easily-digested raw foods and increasing levels of stimulation. I follow a structured programme of Early Neurological Stimulation, socialisation and exposure to various sounds, sights, smells, textures and tastes. Pups are also introduced to deer skin, hooves and duck wings. My aim is to raise healthy pups, with stable temperaments who are actively curious, adventurous, interactive, responsive and resilient. I prefer to keep the pups for 9 weeks to give them the best possible grounding in life, before they go to their new families. I welcome enquiry from people who wish to continue with natural approaches, species-appropriate raw diet, and ongoing socialisation and adventures, and am happy to provide information and advice throughout. I also particularly welcome enquiry from people who want a hunting partner, or who want to specialise in an activity with their vizsla, and will work with you for the best mating and puppy selection.
All pups will be vet checked, microchipped and registered with DogsNZ (New Zealand Kennel Club).
Next planned breedings
The next litter is planned for mid 2020 with imported semen with exceptional lineage of field and hunting dogs with high natural abilty and work drive. I am hoping that many of the pups from this particular litter will go to hunting and field trial homes. If you are interested, please contact me soon to be considered.
Planned
Andras (Nádorpusztai András of Habanero) - to be bred to - Georgia (NZ CH Rafoej Our Georgia)