Addenhund Hungarian Vizsla
We have one pup still available.
Georgia and Solo: CH Rafoej Our Georgia and CH Addenhund Dalibor Sol
This is an exciting combination of lines, and I'm expecting robust resilient hunting dogs, with excellent temperaments and that will make great active companion dogs. Information on the sire and dam is under each of their profiles.
Photos and updates of he puppies are on our Addenhund facebook group
If you're interested in making an Addenhund pup part of your life, please tell me a bit about your lifestyle/situation, your experience with dogs (including knowledge) and why you are interested in a vizsla (this is your chance to show your understanding of the breed) - either in an email or in the form below. I receive a lot of enquiries, and really appreciate those people who have read about my approach to breeding and raising pups and are willing to tell me a little about their situation and approach. Thank you, and I will respond as soon as I am able.
.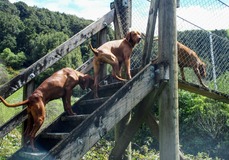 Email: jude@addenbrooke.nz
Phone: 0274881987
Or please complete the form below, and I will respond to you as soon as I see the message.