Addenhund Hungarian Vizsla
If you're interested in making an Addenhund pup part of your life, please tell me a bit about your lifestyle/situation, your experience with dogs (including knowledge) and why you are interested in a vizsla (this is your chance to show your understanding of the breed) - either in an email or in the form below. I receive a lot of enquiries, and really appreciate those people who have read about my approach to breeding and raising pups and are willing to tell me a little about their situation and approach. Thank you, and I will respond as soon as I am able.
For those people who do not tell me anything about themselves, sorry I do not have any pups available for you.
.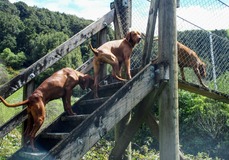 Email: jude@addenbrooke.nz
Phone: 0274881987
Or please complete the form below, and I will respond to you as soon as I see the message.