Current Litter
Update: pups have arrived, and both mum and pups are doing well. Photos and updates will be on our fb group.
I have reluctantly decided not to keep Bodhi after all - too many dogs! So she is available to the right home. She is an awesome pup, happy, adventurous, with a good working nose. She is very responsive, fast learner, listens well and very sensitive to any correction. Would suit an active, experienced home, with the patience to help her through the transition from leaving home and her pack. If you're interested, please use the form or email, and provide information on your lifestyle, experience with dogs and reasons for wanting a vizsla. I need enough information to see you understand the breed and can meet its needs.
Tahlia has been scanned and is confirmed pregnant. She is due to have her litter in late July, with pups ready to go to their new homes at 9 weeks of age toward the end of September.
Expressions of interest are always welcome from people who are willing to wait for the right pup. Enquiries from both hunting homes and non-hunting homes are welcome - please tell me about the home you can provide, and a bit on your understanding of the breed and how you will meet its needs.
Current
Bruno (Seek Ruahines of Sierraskye) - has been bred to -Tahlia (NZ CH Addenhund Alchemy Tahlia)
Sire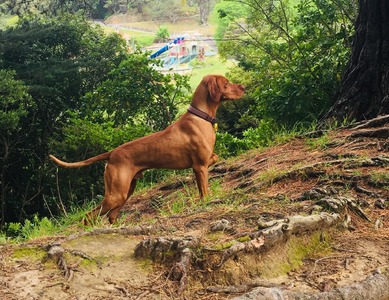 View Profile
NZKC registration: 01150-2016
Dam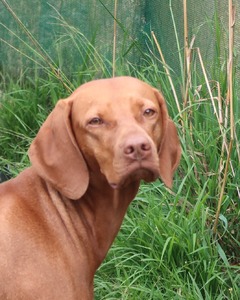 View Profile
NZKC registration: 02051-2019
The COI (co-efficient of inbreeding) is 3.167%.