Yola (NZ CH Silverton Reign of Yolanda)
Sex:

Female

Date of Birth:

26-Apr-2017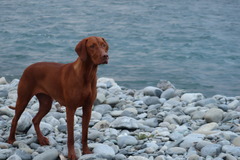 I chose Yolanda to join my breeding programme because of her quality lineages. Silverton Vizslas have contributed to the genetic diversity of the vizsla breed in New Zealand through importing dogs from Hungarian and Australian lines, and I am grateful to have been trusted with Yola early on in my breeding programme. Yola has Erdos on her mother's side, a breeding kennel established in 1992 by Vicki Marsden and her first husband, both of whom were keen hunters, mostly roughshooting for birds and other small game in Australia (Erdei/Erdos). Vicki has commented that Yolanda's powerful elegance is reminiscent of her grandfather, Remi (Australian Grand Champion, Graebrook WithoutRemorse). Yola's father came from Hanafor, long-standing and very influential breeders who have put huge effort into improving the breed's quality and recognition in Australia with many imported international stud dogs, and breeder of champions in show, field, tracking and obedience.

Yola is my big loving exuberant girl, with a huge heart and zest for life. She has a beautiful temperament for living in the human world, very affectionate, lively, happy and engaged. She is good with children of all ages, and intuitively becomes calm and gentle around very young or shy children, or people with disabilities. She has an innocence about her, that means she is easily tricked by the other dogs into losing her place or her toy, but she always forgives and is ready for more play and affection.
As a young puppy, Yola's natural hunting ability appeared to favour birds and retrieving. At 9 weeks of age she was catching mature muscovy drakes and dragging them to me backwards - they were too large for her to carry or to walk forwards with. Her fascination for and inherent knowledge of birds continues, and she regularly finds (and sometimes catches) wild ducks, pheasant, pukeko and quail, always bringing them to me with pride and joy. She is also a natural and powerful swimmer - taking on the mighty Waikato and its strong currents from a young age, as well as any other river, lake, swamp or water body, regardless of temperature. She swims for pleasure, and she also swims for purpose if there is any game about. I had labelled her as a bird or 'feather' dog, but she is also good with animal game or 'fur'. She had missed out on early training on deer stalking due to me breaking a knee, but once she got the chance she took to it well. Her first introduction to deer was taking her into an area where we had got a deer with Kugar the night before. I took her in from a different angle so that she wouldn't just be following our scent, and as we neared the area she became excited and went straight to where the deer had initially been foraging. She then quickly and surely took me to where it had stood when it was shot, and then directly to where it ran and fell. Then she disappeared, and I was puzzled at her apparent lack of interest in the site where the deer had been gutted. Then, a couple of minutes later, she came puffing her way back carrying the deer's head, having retrieved it some 100's of metres from where I had hefted it out over a steep bush-covered slope. She loves retrieving, and giving me presents, this girl!
Yola is a stunning bitch, powerful as well as elegant. She has a deep rich coloured coat, beautiful head shape and a soulful expressive face. She would bring style and grace to the most exclusive of homes. She is a larger bitch, with good angulation, reach and drive, and can cover the ground and clear obstacles effortlessly and gracefully.
Yola is a very active dog, with no known health issues. Her PennHIP and elbow scores are better than breed average, and are available upon request. Her eyes are clear on all counts (ophthalmic exam) and the DNA test showed her clear of cerebellar cortical degeneration.