Georgia (NZ CH Rafoej Our Georgia)
Sex:

Female

Date of Birth:

12-Nov-2016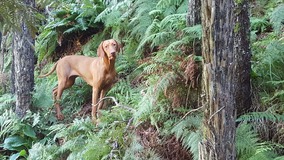 Georgia is my foundation bitch. She was bred for me by Rod Hitchmough specifically for that, and is a beautiful example of a quality vizsla bitch. Her mother's side has Szep-Allat (of the late Jan Edwards, who worked hard to improve the breed as a dual purpose dog and establish its success in New Zealand, with dogs known for their tremendous hunting instinct). On her father's side, Rod purposely selected a sire from little known lines to add genetic diversity to the main breeding pool, a sire who has excellent conformation, a great temperament and who is also a capable hunting dog (deer stalking). Georgia was the pick of the female pups, assessed by Rod for her conformation and temperament, and by me for her natural hunting ability. Rod continues to follow her progress, and to provide mentoring in my breeding programme.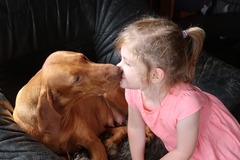 None of my dogs are 'just for breeding' though, and Georgia has given much delight with her exceptional keenness for anything outdoors, particularly hunting, and with her unique personality. One of the things I love about vizslas is their complexity, and Georgia definitely is that! She is my 'lady girl' – refined, self-contained, well-mannered, sweet, gentle and affectionate, giving the most delicate of kisses, and also prim and proper, telling me off with a school-marm 'wuff' if I don't do things the correct way. I also call her my 'feral', as she has exceptionally strong natural instincts, is tough and resilient, and can be both independent and intense, driving herself tirelessly at any opportunity for hunting and not allowing anything to stand in her way.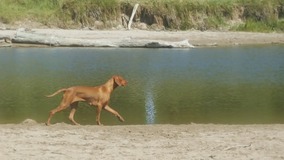 She is a seriously skilled and focused hunter, with an excellent nose (ground and air scenting), and is equally interested in animal game and in birds. She has been shot over for deer, goats, rabbits, ducks and pheasant, in a range of terrain and cover. She is very athletic and agile, and is relatively wide-ranging for a vizsla, scoping out the action near and far. She will attempt any terrain, and go through bramble or swamp, whatever is required. As she has matured, she has learnt to hold herself back and partner with me for the hunt.
Georgia has strong maternal instincts, attentive to puppies, and is very protective of her home and family. She has a high awareness of the surrounding environment, and will take her time assessing a situation for herself, and then moving forward or protecting as she feels appropriate. She is not immediately outgoing toward strangers, but likes to check them out and then give her affection as she chooses. She is calm and gentle with young children.
Georgia has excellent conformation, with medium bone, excellent topline, well laid shoulders, deep chest, good tuck-up, good angulation, tight feet and very graceful movement. She is the perfect size for a vizsla bitch. She has done very well in the show ring, earning her championship as soon as she was old enough to qualify. She frequently won bitch challenges against varied competition, and often Best of Breed, and has won a Junior title in Group against the other gundog breeds, all in a very short show career. I may still show her occasionally, as she does enjoy it.
Georgia is very fit and active, tough and robust, with no known health issues. Her PennHIP and elbow scores are better than breed average, and are available upon request. Her eyes are clear (ophthalmic exam) and the DNA test showed her clear of cerebellar cortical degeneration.
Georgia was a fast maturing bitch, physically and mentally, with exceptionally strong maternal instincts and has been first bred on her third season.