Kugar (NZ CH Rafoej My Kugar)
Sex:

Male

Date of Birth:

05-Aug-2014
Kugar is my best mate, my inspiration and the reason I decided to venture into breeding. He is an outstanding hunter and companion - the best dog ever!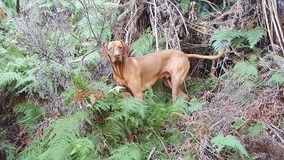 I've had dogs all my life, hunting dogs, working dogs and companion dogs, all sorts of breeds and natures. At a certain point in my life, I was able to step back and really think about what I wanted. I decided on a pedigree Hungarian Vizsla – a pedigree because I wanted the generations of careful selection to produce the best dogs possible, with predictable abilities and temperaments. I wanted a breed that had strong natural hunting ability and the versatility to handle the range of New Zealand terrains and game. And I needed a breed that was intelligent, biddable and keen so it could be trained for truffle detection. I also needed a dog that I would enjoy having around, responsive, intelligent and keen for anything. So, after much research, I decided on the Hungarian Vizsla. Further research directed me to Rod Hitchmough, one of the most knowledgeable and reputable breeders in this country.
Rod gave me the privilege of the best dog from his next litter. He made the pick based on its conformation and temperament – the pup with the orange collar. During my visits, I had secretly also found a favourite, a male pup who was responsive and affectionate, biddable but confident to explore on his own, and who showed a keen interest in finding and following scents – yes, the pup with the orange collar. Rafoej My Kugar is everything I hoped he would be and more.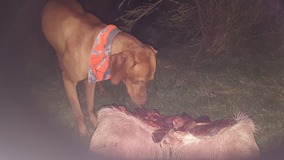 Kugar is a valuable hunting dog, with strong instincts and natural ability. He has taught me more than I ever needed to teach him, and from his very first hunting trip at 5 months of age he knew what he was after, what his role was and how to do it. His focus and style in the bush is awesome. He has an excellent nose for both ground and air scenting, with a natural tendency for fur (finding, indicating and tracking), and is relatively close ranging, anticipating my every move. He has definitely improved my ability to fill the freezer with venison, and has been shot over for deer, goats, rabbits, pheasant and ducks, in a range of terrain and cover. He is extremely keen and untiring, loves to work and loves the rifle – I'm sure he sometimes wishes he was the one pulling the trigger.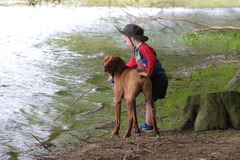 He is also my best mate. We have so many adventures together – in the bush, on the water, on the road and in town. Kugar fits in anywhere, and gets along with anyone, always bringing his steadiness of character, humour and willingness to participate in anything going.
His outstanding features are cooperativeness, steadiness, enthusiasm and confidence, along with exceptional social skills. He has a special ability to evaluate a situation and moderate his behaviour according to the situation and environment, and has done this right from a young pup. He can put a nervous child at ease, make a grumpy man laugh, encourage a shy dog to play, and induce a staunch dog to relax. He has strong intuition, and can usually read my mind. And he absolutely loves children, spending hours entertaining and looking after them.
In terms of conformation, Kugar is a good honest dog, nothing flashy, but very sound. He is the classic russet gold vizsla colour, with deep brown eyes. He is medium boned and moderate sized, with excellent topline, deep chest, tight feet and economical fluid movement. He can work tirelessly in rough terrain. Neither Kugar or I had any interest in the show ring, but once I began on the breeding journey, I recognised the importance of external evaluation in the tradition of breed shows. Despite my lack of skill and my awkwardness, and despite only being introduced to it as an adult, Kugar earned his championship fairly quickly, also winning a Best NZ Bred in the Group against the other gundog breeds. I have promised him he doesn't have to do it any more now.
Kugar is a keen and tireless worker, with no known health issues. His PennHIP and elbow scores are better than breed average, and are available on request. His eyes are clear on all counts (ophthalmic exam) and the DNA test showed him clear of cerebellar cortical degeneration.
Kugar is available as a stud dog to approved bitches. He is a proven sire, with a litter from a natural mating. His sperm has also been evaluated by a reproductive vet, with excellent results in terms of numbers, motility and morphology.