Armand (NZ CH Hubertus Na Zdravi)
Sex:

Male

Date of Birth:

28-Aug-2005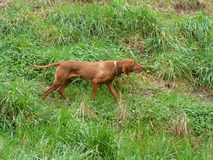 I'm pleased to be introducing Hubertus Na Zdravi (Armand) as a sire in my breeding programme, with his semen to be used for Georgia. Sires for use within my programme are carefully selected for their genetic contribution and for features that complement my bitches. I'm grateful to Margaret Cotton for allowing me the use of this precious semen, a connection to her prized working dog.
Armand's pedigree is impressive, coming from Agnes Pali's Hubertus kennel, with Pitswarren and Szep-Allet on his sire's side and many highly accomplished champion field dogs on his dam's side (Hungarian champions and International champions). He was imported into New Zealand as a pup, specifically for these working bloodlines from Hungary.
Armand was worked primarily on pheasants and quail. He loved his hunting and worked hard, happily going into heavy cover to find game. He also worked fur (mainly rabbits) and ducks. His retrieving was very reliable. He was also very good at tracking, very careful and steady. He was a moderately close worker. He also enjoyed swimming. He passed his Intermediate Hunting Dog Test, with high marks for his work attitude and co-operation, and his tracking and retrieving from water, and was awarded honours for his blind retrieve.
Armand had a very calm nature, steady around the home, confident and handled any new situations well. He was a very loving dog and made friends with a lot of people who still remember him. He was good around other dogs, including male dogs so long as they did not get too close in his face.
He was a tall rangy dog, at the top of the vizsla height and weight standard. He was solid, with good bone, moderate angulation and well balanced, and with a strong head and deep muzzle. He was awarded as a conformation Champion.
Under the old NZKC/NZVA Hip Dysplasia scheme, his hip scores were excellent (3 and 5). His elbow scores were acceptable (one increment away from a clear score, and he did not show any sign of problems over his life span).
I did not ever get to meet Armand myself, but I do know one of his offspring, Sand. Sand is a very enthusiastic dog, keen to work, moderate size and bone, and with a very loving nature, he just wants to be friends, best friends.